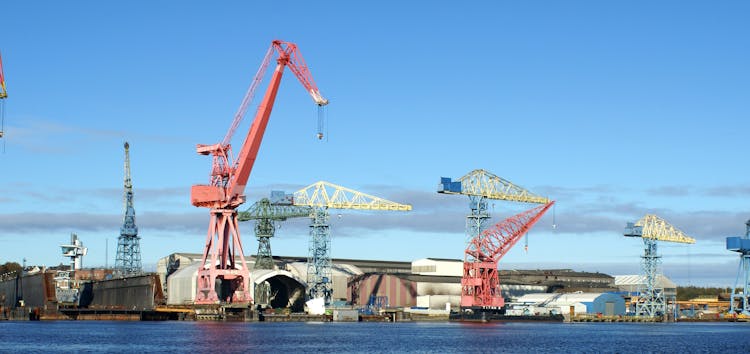 Swan Hunter Shipyard
Upon the closure of Swan Hunter (Tyneside) Ltd, Apex Auctions conducted a sale of the whole facility and its contents. 
Apex Auctions took a comprehensive approach
We utilised our extensive industrial buyers database by directly contacting over 3,000 prospective companies in the shipbuilding industry with a comprehensive 24-page catalogue.  This resulted in successfully negotiating the sale of all equipment to a single overseas buyer before the proposed auction date.
Apex successfully supported the Buyer in relocating all of this equipment overseas which, due to the size of the project, took almost two years to complete under exacting health and safety controls. 

Apex sold thousands of Items featuring:
Apex Auctions sold thousands of items in this large scale auction from all manner of categories. Our expertise and unique strategic approach meant that some of the items sold included:
20,000 Ton Floating Dry Dock
180 Ton Swan Neck Level Luffing Travelling Cranes
150 Ton Floating Crane
Wenzlaff Panel Line
Fabricating Machines, including Hugh Smith 2000 Ton Hydraulic Roll, Hugh Smith 700 Ton Ships Frame Bending Machine, Pearson Model 500 Deep Throat C Frame Press, Bronx Powered Pyramid Rolls, Kingsland Hydraulic Universal Metal Worker
Profile Cutting Machines, including Messer Griesham and Hancommander Plasma Cutting Machines, HGG Pipe Profiling Machines, Burny Profile Cutting Machines, RPC Rotating Robot Profiling Machine.
Welding Equipment
Mobile Cranes & Fork Lift Trucks, as well as, River Craft such as Pontoons, Barges and Moorings, and Various Equipment Buildings, such as Stores and Offices.
Another Happy Client
'This project was a huge success with significant negotiation conducted by Apex amidst a very complex financial structure that secured the sale. Apex managed the process from start to finish and worked closely with the Buyer to ensure the rigorous onsite Health & Safety requirements were adhered to at all times. We would highly recommend using Apex for any similar project of this magnitude.' - Client Statement
If you are looking to optimise your business through the identification, redeployment and remarketing of idle or surplus assets, get in touch with our global sales team for a discussion.