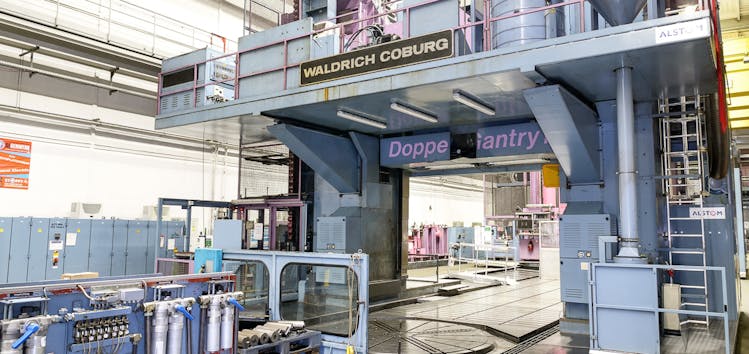 GE Mannheim
The reallocation and sale of surplus assets in the GE manufacturing plant in Mannheim, Germany was assigned to Apex Auctions Ltd, in conjunction with Chain AMS.
The auction consisted of thousands of machines of which many were high-end, specialised equipment. To facilitate better outreach and success, Apex Auctions undertook a multi-phase sale approach across a several months. 
The lots included niche machines such as:
Waldrich Coburg (2010) Powerturn 6500AS 7,500mm max turning, CNC Double Column Vertical Lathe with Rotating Tools with Siemens 840D SL Control
Waldrich Coburg PMC 6500 CNC Double Gantry Machining Centre (2 x Double Columns Gantry with 2 x 3m rotary tables and Siemens Sinumerik 880M control, X=31,000mm, Y=7,200mm, 17 separate machining heads including 5 axis)
General Outreach
The presence of a wide array of equipment prompted the use of multiple channel marketing campaigns each designed to highlight different categories of machines.
How was the sale conducted?
The unique marketing approach combined with the strategic multi-phase auction resulted in the sale of more than 4,000 machines with 16,397 auction visits and over 1,100 approved bidders placing 22,872 bids in total. 
The combined efforts of Apex ensured that the clearance process was meticulous and prompt, with all the equipment being removed in the agreed time frame. Following the success of the auction, GE has further worked with Apex to support multiple plant closures and surplus asset management strategies. 
If you are looking to optimise your business through the identification, redeployment and remarketing of idle or surplus assets, get in touch with our global sales team for a discussion.